Brief 4 is all about communicating a specific message taken from the research conducted for Studio Brief 3. I must produce designs for a set of three high impact posters that deliver a personal identified message derived from your research.
The three posters should work as a set or series and be visually consistent. The first must be produced solely using type, the second solely with image and the third a combination of both type and image.
Focus on what you are trying to say and avoid generalisations and vague messages.
Keep it simple and to the point.
Are you making a statement, delivering facts or posing a question?
You should consider and investigate a broad range of possible visual solutions before making your design decisions.
Make it memorable, immediate high impact and clear.
Challenging, potentially controversial but appropriate and not offensive.
Factual, statistical, informed and specific.
I am restricted to working in two colours plus stock and must work in a 2:1 format and be presented on an A3 scale.
Initial sketching and idea generation. I have mixed feelings when it comes to 'trolling'. I think in some cases it can be funny, witty and purely a joke. Just someone's way of winding someone up a little bit, not intended to be anything more. But at other times it is clear that the intention is malicious and directly cruel, so I wanted my posters to be communicating a message that is against trolling in general. The attacks made on Queen Elizabeth were vicious and completely unnecessary and very childish in my opinion.
With childish nature in mind, I did some initial research into mythical trolls in fairy tales. Fairy tales are closely associated with children so I saw this as a good source of inspiration and I generated a number of ideas from this. I ran with the idea that trolls belong under bridges and out of sight. I found a number of really nice illustrations on the internet which inspired me.
Abstract Composition - Jean Arp
Composition 10 - Sonia Delaunay - 1930
"Taureaux" monotype on Japanese paper - Aurore De La Morinerie -
2010
Edward Ruscha,

a conceptual and quirky drawer / painter / photographer / designer extraordinaire. In a series of paintings named 'On the Road', Ruscha conveys the hedonistic beliefs and bohemian ideals of the Beat Generation, who longed for meaning and happiness in post-WWII America.
These paintings were made in the 1950s and are simple in design, yet complex in message. Made with acrylic paint on canvas and museum board paper, I admire Ruscha's use of clean typography set against both abstract and mountainous backgrounds. The messages within his paintings aren't neccisarily relevent to this poster project but his composition and use of text and image is.
Gary Hume - Water Painting
Gary Hume - Twins
Patrick Caulfield - Coloured Still Life 1967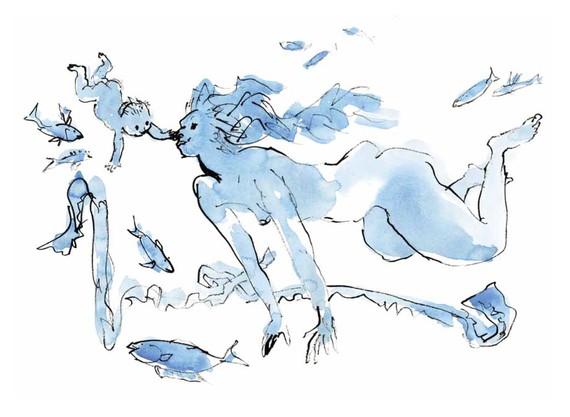 Quentin Blake's fluid style of illustration influences me a lot and I wanted to try and make these poster designs quite playful and illustrative in a way