I decided to scourer ItsNiceThat to find some contemporary layout/editorial design inspiration. I was not disappointed. ItsNiceThat is one of my favourite research tools on the internet, because it is fresh, current and always championing contemporary design and art. I want my publication to feel current a and relevant to today's consumers of artists/photographic books. I have drawn a lot of inspiration from what I saw on the website. I was paying particular attention to type choices, the formatting/placement of body copy and photography and stock choices/finishes.
I am interested here in the finishing and the stock choices. I like the grey ink on black paper, this has probably been achieved through screen printing or spot varnishing. The effects are very stylish and produce a very contemporary aesthetic. I also like the varying sizes of the pages, simple cutting methods have been used to achieve these effects, I think its a really interesting finish.
I think the thin borders around the photographic content is effective. It allows the stock to shine through and prevents the image from dominating the entire page. The layout of the imagery is thought out and well considered, the images compliment each other. This is something I will need to consider when choosing the images to include in my publication.
Centre aligned text caught my eye here. It is quite trendy at the moment to centrally align copy, something I am going to develop and consider using in my design. I do want my book to be quite on trend and appealing to a younger audience of readers. I want young creative's to be interested in my content, I feel using trendy design treatments will allow me to achieve that.
I also decided to have a quick look on TrendList. This website has become somewhat controversial within the studio at college, because being 'trendy' has become something that is not necessarily good. This confuses me sometimes, but I do understand why TrendList is viewed negatively by some. It is important to push and refine your own creative style within Graphic Design but there is nothing wrong with grabbing some inspiration from contemporary sources every now and then. Below are a number of editorial/layout designs that caught my eye and inspired me to develop my designs.
The typesetting and type decisions are what inspire me the most from these designs, as well as the fact they are monochromatic and full of contrast.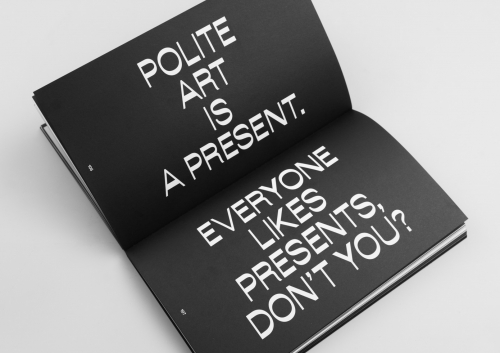 I think the thin border around the text box here is a nice touch. It makes the overall spread feel highly minimalist and clean, something I want to achieve in my design. I think my content has the potential to look pretty overwhelming on paper, I feel centre aligning type and using subtle geometry like this will make my publication feel overall sophisticated and contemporary.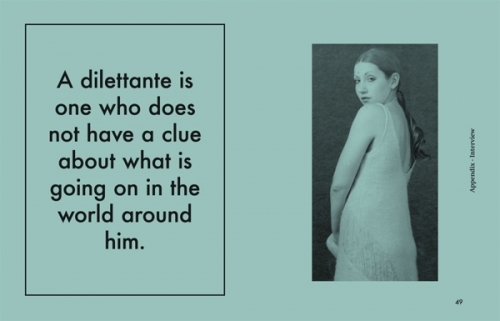 I am really drawn to the type decisions here. These types of contemporary fonts can be described as humanist. They can also be simply referred to as contemporary serifs/black letter fonts. I am really taken by the central alignment of the type. To me, it is sophisticated and makes a bold statement.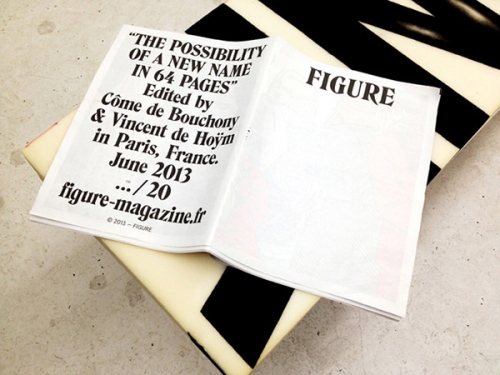 This subtle injection of colour through use of gradient is a nice touch, it really makes the type pop and stand out against the sheer black background. I am most likely not going to introduce any colour into my design, but I am still inspired by the effects achieved here.